Laws Observatory, located on top of the Astronomy & Physics building on the UMC Campus in Columbia, Missouri, hosts a number of small telescopes, a computer room and an astronomy exhibit room with a collection of autographed pictures from NASA Mission Control, astronauts, engineers and people connected with NASA. The Observatory is open every Wednesday night from 8 - 10 pm (weather permitting), except holidays.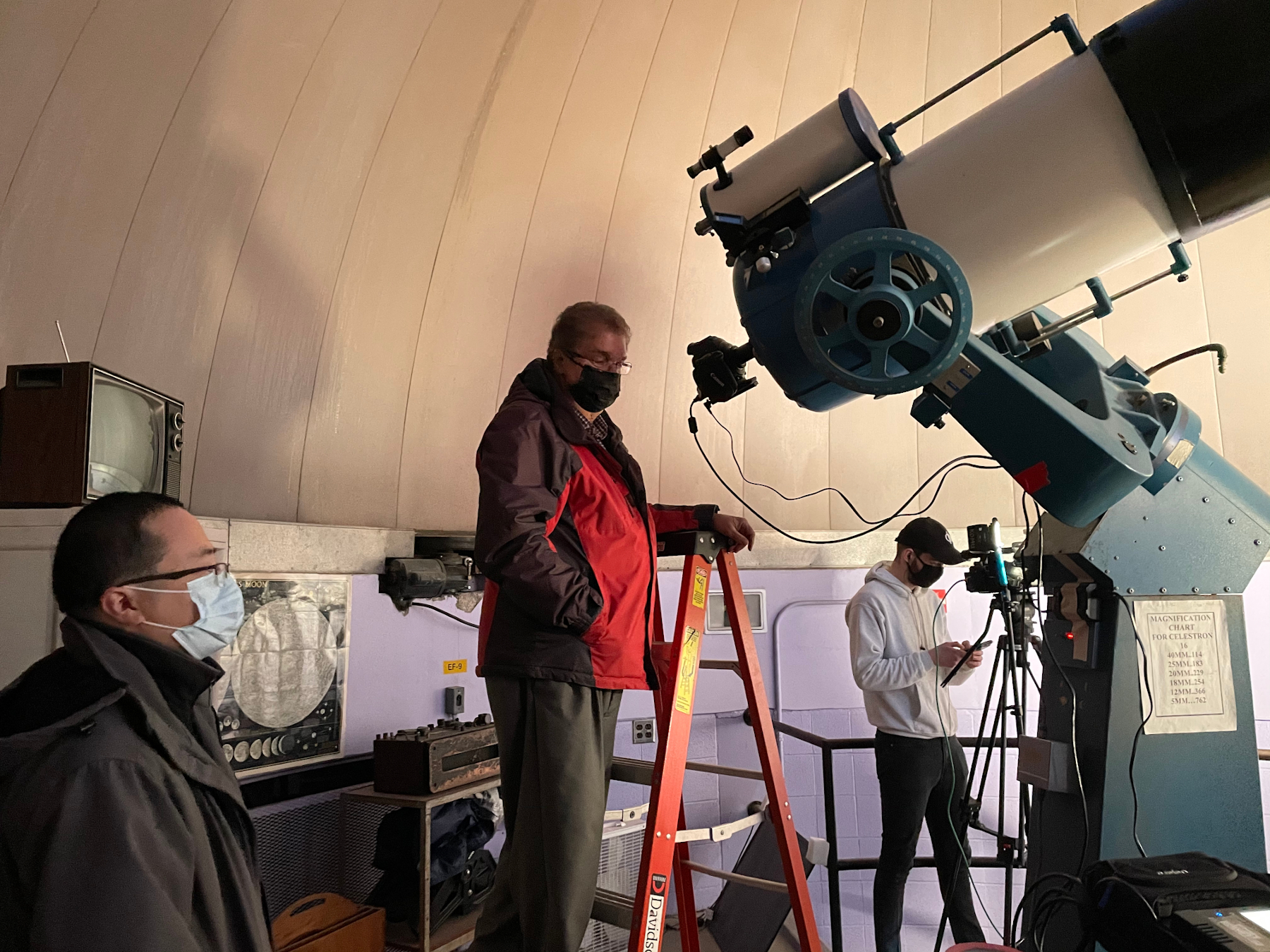 What's New?
09/09/2023: Light pollution reduced (at least once a month)
      Working with MizzouRec, we now have a working plan to reduce the light pollution from the stadium so that our visitors will have a better viewing experience: every first Wednesday night of the month, the field lights at Stankowski are to be turned off by 7:30pm, starting this semester. The pictures below (kindly provided by Val Germann) show how great the improvement is by comparing the night of August 30 (the lights were on) and that of September 6 (the lights were off).
       We greatly appreciate the MizzouRec team led by Stephen Byrd and the behind-the-scene efforts of Jamie Arndt (Associate Dean of A&S) and Ron Boain (our distinguished alumnus).

11/29/2022: Preparing for the Lunar Occultation of Mars, December 7
      There will be an interesting astronomical event coming on December 7, lunar occultation of Mars: at around 9pm CST, the Moon will start blocking Mars, and after ~50 minutes Mars will reappear. This is a naked-eye event and everyone can see it (weather permits!).           On 11/30 (Wednesday) , there will be a public lecture on this event in Room 120, offered by Ron Boain. The lecture will be from 7:30 to 8:30pm.
Everyone is welcome!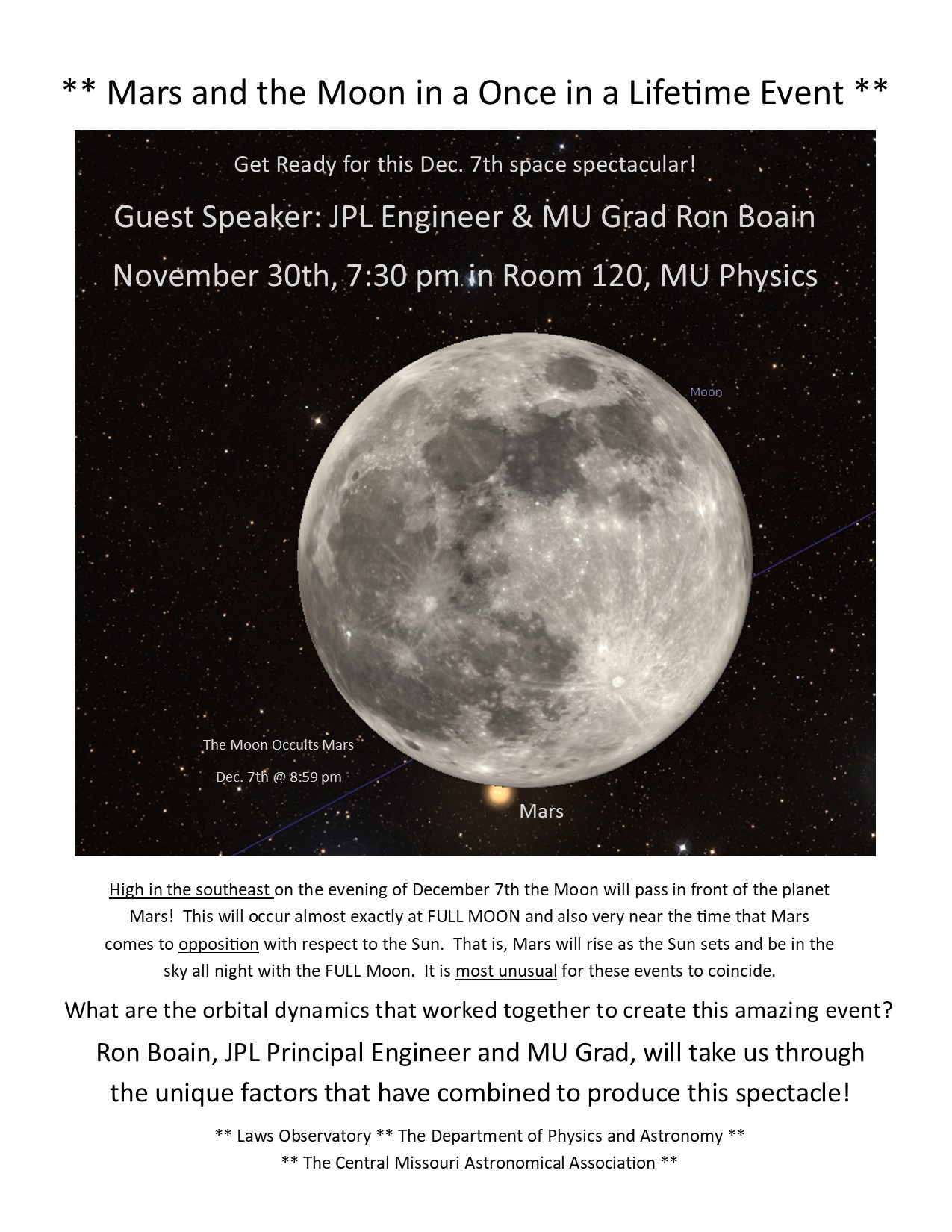 05/19/2021
This is not a news, but it brings up a piece of history of MU all the way back to its very early days. What shown below is a picture of the old G. Merz und Söhne (G. Merz and Sons) refracting telescope that once was the working horse at the Laws. It was made in 1847, with the objective lens of 7.5-inch in size (a very large refractor back then). It was first acquired by the Shelby College in Shelbyville, Kentucky in 1848. In 1880, MU acquired this telescope from Shelby (by exchange) under the effort of Joseph Ficklin (then at the post of Mathematics, Astronomy and Engineering) and Samuel Laws (then the MU president, who paid $500 out of his own pocket for this deal). The telescope was in use until the 1960's, and was then deserted. The original lens was taken out and kept in the observatory, and the structure was disassembled.
In 2011, this old piece was revived by a number of CMAA members, most notably Mike Boessen, Val Germann and his brother Farrell Germann, Monte Gurwit, and John Reed. The lens was replaced by an 8-inch, and the telescope is now at the site of the Wildhaven Observatory. Here is a nice story appeared at the Columbia Missourian in 2011.
For us, this telescope is of high historical significance for three reasons: (1) it was made by G. Merz und Söhne, the best telescope maker back in the mid-19th century; Gerog Mertz was trained by Joseph von Fraunhofer (yes, THAT Fraunhofer); (2) Frederick Seares, a famous astronomer who was a professor at MU for eight years (1901-1909), used this telescope (before he went to Mt. Wilson for the 60-inch) and gained the Laws Observatory an international recognition; (3) Harlow Shapley, when studying at MU (1907-1911), was an assistant to Seares and used this telescope.
12/21/2020
KOMU Channel 8 did a live streaming of the Jupiter-Saturn Conjunction this evening from 5:30 to 6:30pm at the observatory. Valentine Germann, Ronald Boian, Yicheng Guo, and Haojing Yan were on site for the event.
As the 16" was used for the streaming, no still pictures were taken from it during the event. We do have a picture taken the night before (12/20), as well as one taken by Eric Spurgeon (a CMAA member) using a telescope of similar design on 12/21.
12/04/2020: Ron Boain gave a great talk about the Jupiter-Saturn conjunction (Kepler's "Fiery Trigon"), which is a 20-year event that can be seen this year on December 21, right after the sunset. Two slides from his talk are put here as the viewing guide. To download, right-click on the images and save.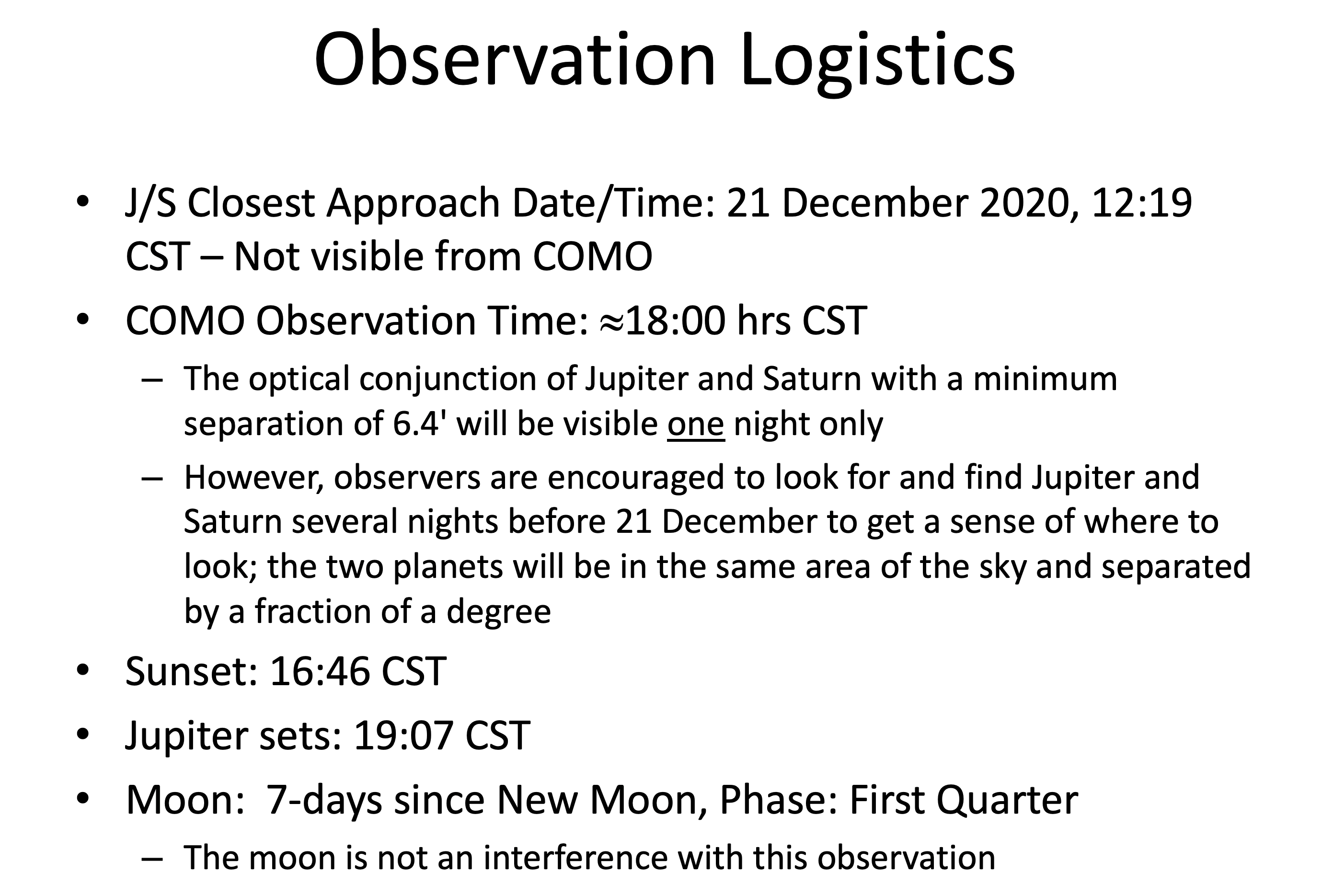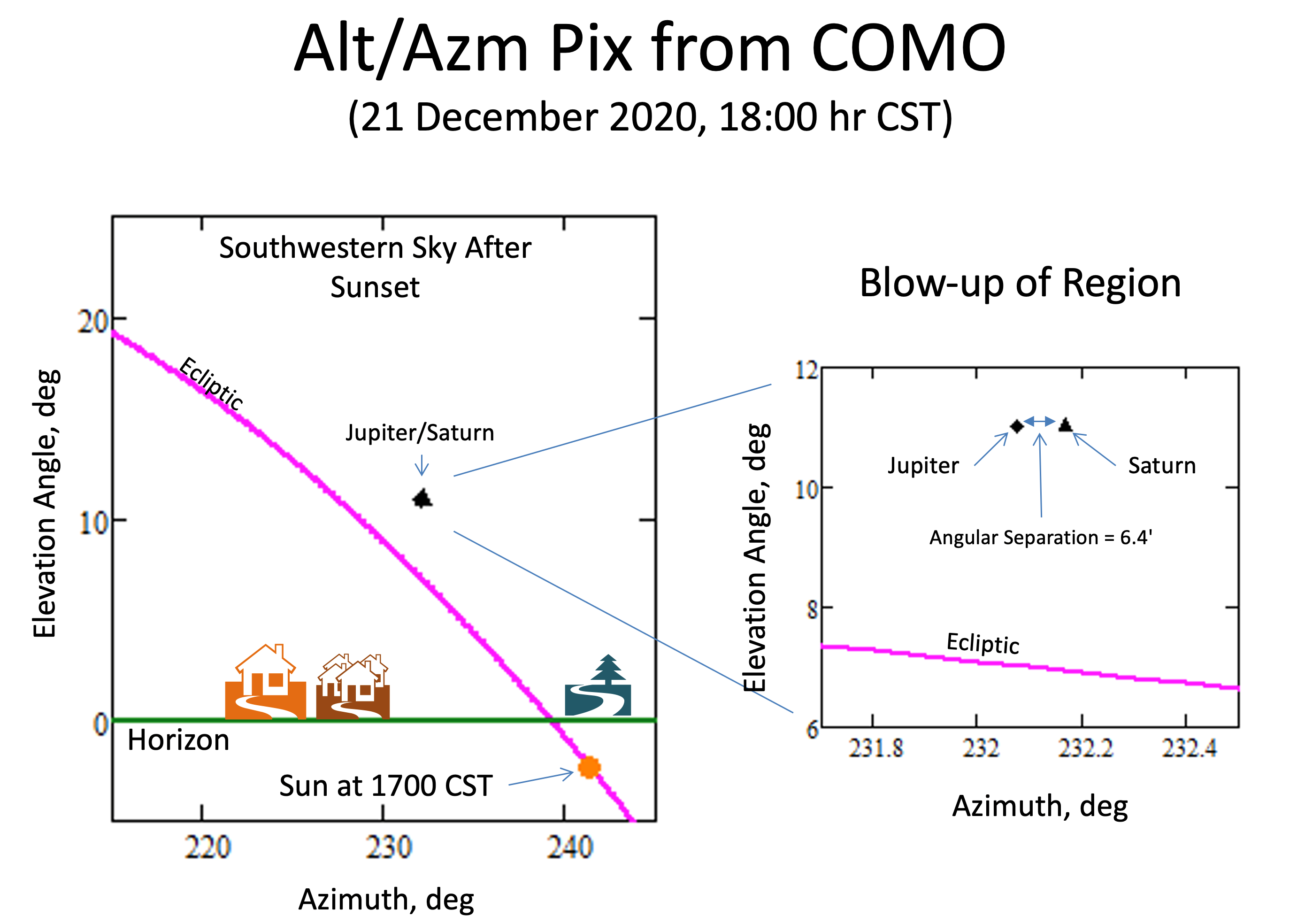 08/24/2020: Due to the pandemic, we will not have the Wednesday Open House in the Fall semester. We hope to resume as soon as the situation is under control.
10/10/2019: We're testing a Meade LX200 14-inch that was donated to us a while ago. Stay tuned!